19 août 2007
Procter & Gamble: acquiert la licence du café Dunkin'Donuts. (source: http://www.cerclefinance.com/default.asp?pub=alaune&art=177304)
(Cercle Finance) - Procter & Gamble annonce avoir fait l'acquisition auprès de Dunkin' Donuts d'une licence l'autorisant à commercialiser le café de la chaîne de pâtisseries américaine.
Aux termes de l'accord, P&G pourra vendre la ligne de cafés Dunkin' Donuts dans les épiceries, les enseignes de la grande distribution et les drugstores aux Etats-Unis.

Sa filiale P&G Coffee sera chargée de fabriquer, de distribuer et d'assurer le marketing des produits.

Les paquets de café Dunkin' Donuts, dont les premiers parfums incluent la vanille, la noisette et la cannelle, seront commercialisés aux prix de 7,99 et 15,99 dollars.
12 mai 2007

Created by William Procter and James Gamble in 1837 in Cincinnati, with the candles and soaps the first 2 products, company Procter&Gamble (P&G) now is a giant company which produces nearly 300 products that cover the categories from personal care to food.
"Procter & Gamble has a clear focus on technology and a portfolio aligned with categories in which technology makes a difference" (--quote from The Core's Competence, by Steffen M. Lauster and J. Neely, http://www.strategy-business.com/resilience/rr00018?pg=4) and a good marketing strategy. These are the main reasons for its success.
07 mai 2007
by Danielle Blomert, DuPont Global Market Manager and Pascal Rechatin, Regional Director Asia-Pacific, DuPont Packaging
Q. What is driving the globalization of the personal care and cosmetic industry?
A. Although there are many regional factors that drive the globalization of the personal care and cosmetic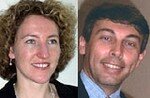 industry, there are a few in particular that are prominent around the globe. These include:
Rising living standards and increased personal income in developing regions.
In developing nations, consumers, particularly below the age of 30, are more willing to spend large amounts of money on personal care and cosmetics.
Increased international travel/tourism and increased mobility
Consumers are demanding all-in-one products and are looking for products with multiple uses that they can grab and go. They also want to be able to buy the same product they use at home during their travels
Increased media influence
Consumers are heavily influenced by what they see on television and the Internet. They want to resemble their favorite star or hero, and that drives their purchases.
Q. What are the ethnic and cultural factors impacting the globalization of the personal care and cosmetic industry?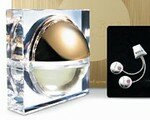 The cap for Hera Muhm eau de toilette strengthens Hera's unique "circle-in-a-square" visual identity with a boldly squared-off element of transparent DuPont™ Surlyn® placed over a golden, globe-shaped cap made of plated ABS.
A. Ethnic, cultural and religious differences are important factors when formulating product and designing packaging for different cultures.
Many times, different countries have varying government regulations regarding the ingredients used in the products. For example, Islamic regions observe strict Halal regulations, limiting certain ingredients used in the cosmetics and packaging itself. In addition, certain products are more popular in specific countries. While the use of fragrance is common in India, we are not yet seeing that in China.
Differences also impact packaging. In most Asian countries, for example, colors and numbers have a symbolic meaning, which needs to be considered in graphics development.
Q. Globally, how is product design changing?
A. We are seeing a global trend toward natural products and more sustainable packaging. At the moment, mature markets such as Western Europe and Japan are more concerned with the issue, but this trend is evolving around the globe. To address this challenge, DuPont is able to add modifiers to the packaging process in order to enhance recyclability by speeding up and improving the process.
O Boticário's new anti-age cream jar using DuPont™ Surlyn® is a true innovation in the Brazilian personal care market, traditionally dominated by glass.
Another global trend on the horizon is the growth of male product lines, not only in skincare and personal care but also in cosmetics. Men have a different perception of what convenience means, so packaging requirements for this demographic are different than what products we are used to seeing for women. For example, when it comes to face creams, men do not like to stick their fingers into a jar so companies are packaging creams with a pump.
Q. What obstacles are companies in the personal care and cosmetic industry facing?
A. In the cosmetics world, counterfeiting is a major concern, especially in the premium fragrance and skincare segments. Brands are looking for ways to better control counterfeiting and diversion through intelligent packaging technology. DuPont has developed some unique authentication technologies which helps brands to meet this need.
Another obstacle is developing relationships with local distributors and retailers. When a company enters a new region, it needs to understand the local business landscape and the different business objectives or expectations that are in place.
Q. How does DuPont anticipate consumer trends in the personal care and cosmetic industry?
A. We invest in secondary research, retail audits and in-house panel discussions or focus groups to capture and analyze current trends in the personal care and cosmetic industry. Through our constant interaction of brand owners and designers we have been able to learn about current trends. Finally, the insights and creativity of our own organization are important; we have a diverse, global team representing many cultures and nationalities, who are enthusiastic consumers (and critics!) of cosmetic products.
Q. How does DuPont work with brand owners and designers to leverage innovative packaging into the entire process?
A. Whether involved in the development process from start to finish or only at a later stage, DuPont is able to reduce time to market and to deliver innovative, successful packaging concepts because of its extensive global network of contacts with designers and converters.
About the authors
Danielle Blomert
Global Cosmetics and Personal Care Market Manager
DuPont Packaging

Ms. Blomert is the global cosmetics and personal care market manager for DuPont Cosmetics and Personal Care, DuPont Packaging, based in Geneva, Switzerland.

She joined DuPont, in 1995, and spent seven years in Advanced Fiber Systems, DuPont's technical textiles, working with Kevlar® and Nomex® brand fibers in various international sales, marketing and new business development assignments. Ms. Blomert has also worked in various industries including aircraft/aerospace, oil & gas, furniture and personal protection.

Ms. Blomert holds a masters degree in business administration and European studies and completed post-doctorate studies at Wharton Business School in Philadelphia, Pennsylvania, and IMD, Switzerland.
Pascal Rechatin
Regional Director, Asia-Pacific
DuPont Packaging

Mr. Pascal Rechatin is the regional director for Asia-Pacific, DuPont Packaging, based in Shanghai, China.

He joined DuPont's Engineering Polymers in Paris, France, in 1988. He has held various sales and business management positions across DuPont offices in Europe and in 2001 relocated to Detroit, Michigan, and into the position of global e-Business manager. In 2003, Mr. Rechatin joined DuPont Packaging as global marketing director and later relocated to Shanghai, China, and into his current position.

Mr. Rechatin holds a degree from Ecole Centrale de Lyon in France.
source: http://www2.dupont.com/Cosmetics/en_US/knowledge_center/blomert_rechatin_globalization.html
04 mai 2007
1. Definition(source: http://en.wikipedia.org/wiki/FMCG):
Fast Moving Consumer Goods (FMCG), also known as Consumer Packaged Goods (CPG), are products that have a quick turnover, and relatively low cost. Consumers generally put less thought into the purchase of FMCG than they do for other products. Though the absolute profit made on FMCG products is relatively small, they generally sell in large numbers and so the cumulative profit on such products can be large.
2. Product Characteristics & Industry Segments (source:http://www.ciionline.org/sectors/58/default04b7.html?Page=Introduction.htm):
Product Characteristics
Products belonging to the FMCG segment generally have the following characteristics:
They are used at least once a month
They are used directly by the end-consumer
They are non-durable
They are sold in packaged form
They are branded
Industry Segments
The main segments of the FMCG sector are:
Personal Care: oral care; hair care; skin care; personal wash (soaps); cosmetics and toiletries; deodorants; perfumes; paper products (tissues, diapers, sanitary); shoe care.
Household Care: fabric wash (laundry soaps and synthetic detergents); household cleaners (dish/utensil cleaners, floor cleaners, toilet cleaners, air fresheners, insecticides and mosquito repellants, metal polish and furniture polish).
Branded and Packaged Food and Beverages: health beverages; soft drinks; staples/cereals; bakery products (biscuits, bread, cakes); snack food; chocolates; ice cream; tea; coffee; processed fruits, vegetables and meat; dairy products; bottled water; branded flour; branded rice; branded sugar; juices etc.
Spirits and Tobacc: An exact product-wise sales break up for each of the items is difficult.